Efforts to Make Spare Tires a Thing of the Past
One of the possible ways in which tires can contribute to the global environment is through "Resource Savings." Thus, the Sumitomo Rubber Group is moving forward with active efforts to promote resource savings through the development of run-flat tires and other spareless technologies that will one day eliminate the need for spare tires.
Run-Flat Tires: Contributing to Resource Savings by Going Spareless
Run-flat tires are defined as tires that can continue running at a speed of 80km/h over a distance of 80km, even when completely flat (i.e. when internal air pressure has dropped to zero). Run-flat technology not only makes driving safer, but also contributes to resource and energy savings by eliminating the need for spare tires. The Sumitomo Rubber Group is actively engaged in the development of run-flat tires as part of our overall efforts to save resources.
Driving the Evolution of Run-Flat Technology for Over 40 Years
With the aim of improving automotive safety, Dunlop created the world's first practical run-flat tire in 1970. Soon after, Dunlop developed run-flat tires for market utilizing the Denloc System, which would go on to become factory standard tires on the Porsche 959 and many other high-performance vehicles. Then, in 1995, we launched the first generation of modern run-flat tires, which rely on a reinforced sidewall structure, with the development of DUNLOP Self-Support Tires (DSST). We next launched the second generation in 2000 with the development of CTT Runflat Tires, which we soon followed up with our third generation. In September of 2009, we announced a major breakthrough with the unveiling of the fourth generation of run-flat tires, which overcame the major setback of previous run-flat tires (riding comfort) by achieving rigidity on par with (or even better than) normal tires. In 2014, thanks to our proprietary NEO-T01 high-precision metal core production system, we launched the next generation of high-performance run-flat tires with the release of premium run-flat tires that strike an excellent balance between safety and comfort in a lightweight package: DUNLOP SP SPORT MAXX 050 NEO (in Japan) and FALKEN AZENIS FK453 RUNFLAT (in Europe and Japan).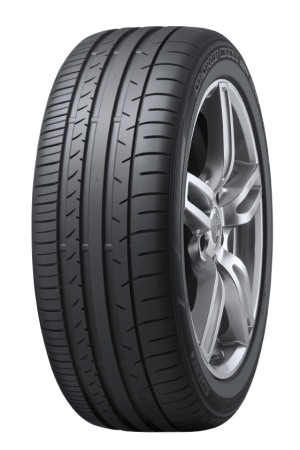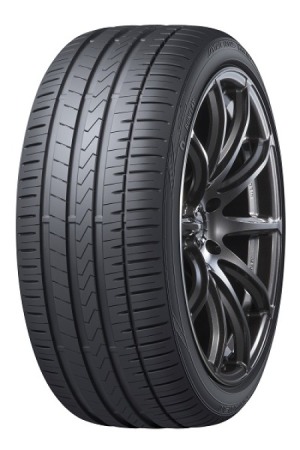 The Development of GYROBLADE – Tires That Need No Air
Because they do not need to be inflated with air, GYROBLADE tires not only never go flat, but also reduce maintenance work involved in regular pressure checks and so on.
Further, the addition of through holes to the tread surface helps to move water away from the contact patch between tire and road for improved hydroplaning performance when driving in the rain, while the placement of asymmetrical slanted spokes coupled with high tire uniformity provides riding comfort on par with inflated tires. At the same time, GYROBLADE tires also reduce rolling resistance for better environmental performance thanks to the use of a rubber compound that features high hardness and low energy loss thanks to the application of compounding techniques typically reserved for golf balls.
GYROBLADE can also serve to make tires more fashionable, offering greater design freedom when it comes to the shape and color scheme of the spokes.
The Development of CORESEAL Sealant Tire Technology – Preventing Air Leaks in Case of Punctures
CORESEAL is a technology that involves applying a sealant (a specialized material with high adhesive and viscous properties) to the inside of a tire (the reverse side of the tread surface). With CORESEAL, even if the tread is pierced clear through,※ the sealant will fill and plug the resulting hole to prevent air from leaking. Maintaining tire pressure for continued normal driving even after a puncture, CORESEAL not only improves safety, but also eliminates the need for spare tires, thereby simultaneously saving resources, reducing vehicle weight and increasing vehicle design freedom.
The Development of IMS (Instant Mobility System) – Emergency Tire Puncture Repair Kits
In recent years, more and more vehicles come equipped with emergency tire puncture repair kits instead of spare tires. Among the various reasons for this trend is the fact that, while spare tires take up valuable space in spite of often going unused, emergency tire puncture repair kits take up relatively little space, which is especially important when it comes to freeing up room for the batteries that drive electric and hybrid vehicles. In addition, by eliminating the need for spare tires, emergency tire puncture repair kits also save resources, reduce vehicle weight for better fuel efficiency and increase vehicle design freedom.

And so, the Sumitomo Rubber Group has developed our own emergency tire puncture repair kit, called Instant Mobility System (IMS), which was first adopted as factory standard equipment on new vehicles in 1996. Composed of a bottle of sealant (made of natural rubber latex) and a compressor, IMS works by injecting the sealant into a tire and then using the compressor to inflate the tire. As the tire spins, the resulting heat and pressure cause the natural rubber in the sealant to harden and plug the hole.
Though both utilize the same basic mechanism to repair a tire, we offer IMS in two different types: Manual Injection Type and Automatic Injection Type.

Manual Injection Type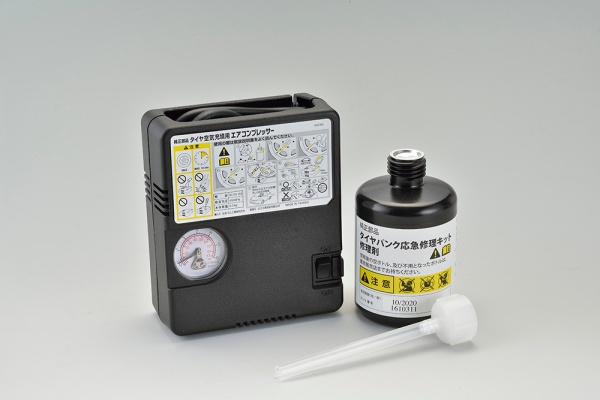 After manually removing the valve core and injecting sealant into the tire, simply use the compressor to inflate the tire.
Automatic Injection Type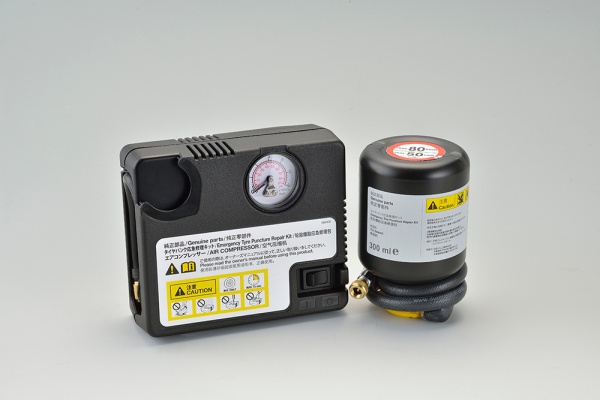 Simply attach the compressor and sealant bottle to the valve (there is no need to remove the valve core) and sealant will be injected into the tire automatically as the tire inflates.
IMS Usage & Disposal
IMS is able to repair puncture holes in a tire's tread surface (i.e. the area of the tire that comes into direct contact with the road surface) with a diameter of up to φ4mm. However, IMS cannot be used to repair tires with sidewall damage or severe punctures that have caused wheel damage, etc.