Working to Protect Lives & Livelihoods through Our Vibration Control Business
Our high-damping rubber is the culmination of various advanced technologies that we have cultivated through many years of research and development on rubber. Thanks to a specialized compound, high-damping rubber not only converts kinetic energy into heat energy more efficiently than normal rubber, but also features properties that allow it to better absorb this energy. Our vibration control dampers employ technology that takes full advantage of high-damping rubber's kinetic energy absorbing properties to absorb the vibrational energy produced by earthquakes, wind and other sources.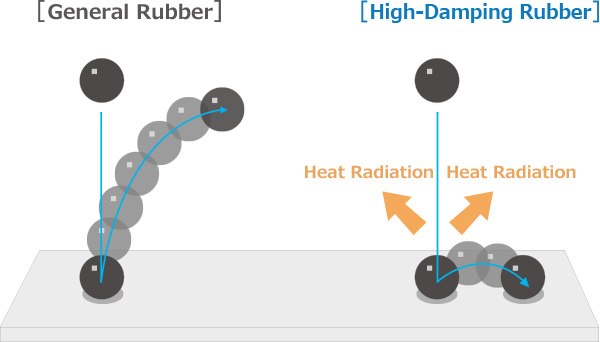 Advanced Damping Materials Serving a Wide Range of Fields: From Houses to Buildings to Bridges
Our vibration control dampers are utilized in a wide range of fields, from damping materials used in the construction of houses, high-rises and everything in between to specialized dampers used in massive bridge cables and bridge piers. In particular, our dampers for bridge cables have a proven track record of installation both in Japan and overseas and have even been adopted for major civil engineering projects throughout the world.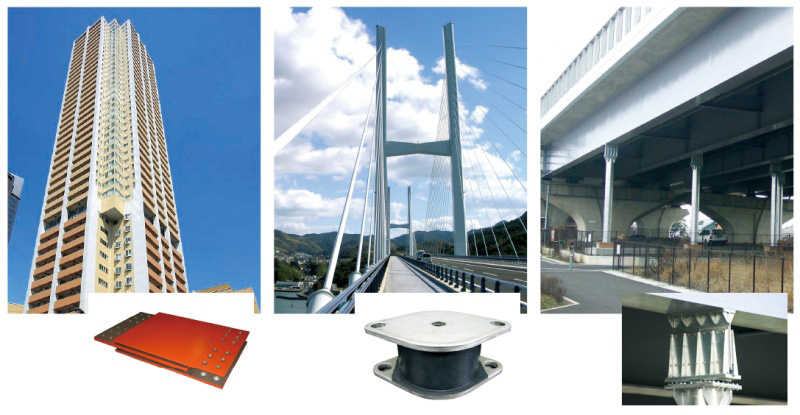 Contributing to the Longevity of Structures While Saving Resources & Reducing Environmental Impact
The merits of our vibration control dampers go beyond the safety that they provide by absorbing the vibration caused by earthquakes, wind, vehicle traffic and other sources. In fact, by lessening the strain and damage to which structures are normally subjected, they also extend the longevity of structures, which in turn contributes to resource savings in the long run. Thus, our vibration control systems can also be considered an environmentally friendly technology.
MIRAIE Seismic Control Units for Housing
Our MIRAIE seismic control units for housing provide outstanding performance when it comes to absorbing seismic energy while also minimizing the number of dampers that need to be installed for a low overall installation cost. Structures receive some damage each time they are subjected to the strain of an earthquake, and this damage accumulates over time. However, MIRAIE is able to absorb up to 95%※1 of this vibrational energy. In other words, MIRAIE limits damage to houses and protects the invaluable property kept in homes. In addition, thanks to their specialized structure and installation method, MIRAIE dampers feature a strong resistance to wear and tear and require no regular maintenance, meaning that, once installed, MIRAIE continues to protect your beloved home from earthquakes over the long run.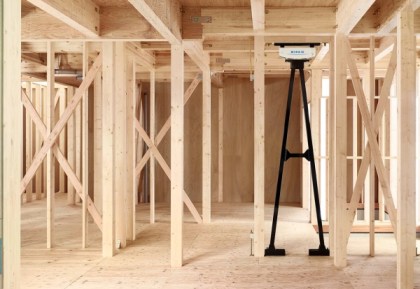 Seismic Control Dampers Adopted to Protect Kumamoto Castle Keeps
Seismic control dampers featuring our high-damping rubber were installed to protect the castle keeps (the main keep and the small keep) of Kumamoto Castle after the castle structures sustained damage in the Kumamoto Earthquake of 2016. Composed of sheets of high-damping rubber sandwiched between and adhering strongly to three metal plates, these seismic control dampers were installed as diagonal braces connecting pillars with beams on the top (sixth) floor of the main keep and the top (fourth) floor of the small keep, thereby effectively protecting the castle from seismic vibrations without obstructing the layout.