Sumitomo Rubber to Supply FALKEN Tires for SUBARU WRX STI Racecar Competing in the 24 Hours Nürburgring Endurance Race
Sumitomo Rubber Industries, Ltd. is pleased to announce that we will be supplying racing tires for the SUBARU WRX STI racecar belonging to Subaru Tecnica International as they compete in one of the world's largest touring car races: the Nürburgring 24h-Race (Official Name: 2019 ADAC TOTAL 24h-Rennen), which will be held this coming June 20th through 23rd in Nürburg, Germany.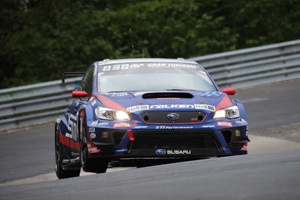 SUBARU WRX STI

The SUBARU WRX STI won best-in-class at the Nürburgring 24h-Race in 2015, 2016 and 2018. For this year's race, Subaru Tecnica International has further upgraded the SUBARU WRX STI, giving it even greater acceleration performance and reducing shift shock (caused by the sudden change in engine speed when shifting gears). The new-and-improved SUBARU WRX STI, outfitted with high-performance FALKEN tires, has a very good shot at winning first place in the SP3T Class for the sixth time to date.

Class

Team

Vehicle

Drivers

SP3T

Subaru Tecnica International

SUBARU WRX STI

Carlo van Dam

Tim Schrick

Hideki Yamauchi

Takuto Iguchi

[Nürburgring 24h-Race]
Taking place at the Nürburgring, which is also famously used as an R&D test track for automobile and tire manufacturers, this 24-hour endurance race is considered by many to be the world's toughest race. At 25km per lap, the race makes use of the Nürburgring's full course, combining the North Course (Old Course), which features an elevation difference of 300m between its highest and lowest points and about 170 corners (including blind corners), and the more modern Grand Prix Course, which was also previously used for F1 racing.