SUBARU WRX STI Equipped with FALKEN Tires Finishes First in the SP3T Class at the 24 Hours Nürburgring Endurance Race
Sumitomo Rubber Industries, Ltd. is pleased to announce that a SUBARU WRX STI racecar outfitted with high-performance FALKEN tires finished first in the SP3T Class at the Nürburgring 24h-Race (Official Name: 2019 ADAC TOTAL 24h-Rennen), which was held from Thursday, June 20 through Sunday, June 23 in Nürburg, Germany. This was Team Subaru Tecnica's sixth victory in the SP3T Class at the Nürburgring 24h-Race, a race that is widely renowned as one of the world's largest touring car races.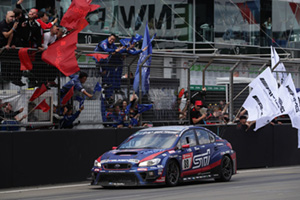 SUBARU WRX STI

In this year's race, we were fortunate to have sunny weather from start to finish; however, with many crashes occurring throughout the race, we were reminded of just how difficult a race it is to run without trouble. Our FALKEN tires helped to steer the team toward finishing without any technical difficulties or accidents. As a result, Team Subaru Tecnica International finished 19th overall, thus claiming their sixth victory to date in the SP3T Class.
Class

Team

Vehicle

Drivers

SP3T

Subaru Tecnica International

SUBARU WRX STI

Carlo van Dam

Tim Schrick

Hideki Yamauchi

Takuto Iguchi

<Update: July 11, 2019>
After the race, the vehicle that had placed second overall was disqualified due to a rule violation. As a result, Subaru Tecnica International's SUBARU WRX STI advanced to 18th place in the overall rankings.