DUNLOP to Have a Display Booth at TOKYO AUTO SALON 2020—One of the World's Largest Custom Car Events
Sumitomo Rubber Industries, Ltd. is pleased to announce that we will have a display booth for our DUNLOP brand at the upcoming TOKYO AUTO SALON 2020, which will be held from Friday, January 10 through Sunday, January 12 at the Makuhari Messe Convention Center in Chiba Prefecture.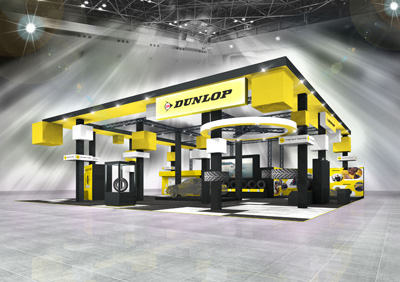 With "DUNLOP - for Family Safety & Peace of Mind" as its central concept, our display booth for TOKYO AUTO SALON 2020 introduces five advanced DUNLOP technologies that support your safety and peace of mind through hands-on experiential contents: "See: TYRE-TRIP THEATER," "Move: GESTURE VISION," "Compare: DRIVE SIMULATOR," "Touch: HISTORY WALL" and "Pose for Pictures: RACING STUDIO." The DUNLOP Booth will be like an amusement park that both children and adults can enjoy while experiencing everything from the history of the DUNLOP brand to what the future holds for tires when it comes to safety and peace of mind.
The DUNLOP Booth will also feature stage events, including a talk show with racing driver Juju (Juju Noda), who made her formula car racing debut at the tender age of 9. Juju will be joined on stage by her father, Hideki Noda, who is himself a former pro F1 driver. The actual racing kart that Juju drives in races (fitted with DUNLOP tires, of course) will also be on display in the "Pose for Pictures: RACING STUDIO" section of the booth.

■Display Contents

:

•Lineup of DUNLOP Tires for Motorsports
•Lineup of DUNLOP Tires for Passenger Cars
•F4 Racing Kart "T-POINT MIKIHOUSE F4"
(Competition Vehicle Driven by Juju, the World's Youngest F4 Driver, in Under 17 Category)

■Display Period

:

Friday, January 10 through Sunday, January 12, 2020

■Venue

:

Makuhari Messe (2-1, Nakase, Mihama-ku, Chiba City, Chiba Prefecture)

■Booth Location

:

Central Hall 4