DUNLOP "SP SPORT MAXX A2 A/S" Selected as Factory Standard Tires for Toyota's New Model MIRAI
Sumitomo Rubber Industries, Ltd. is pleased to announce that we have begun supplying our high-performance DUNLOP "SP SPORT MAXX A2 A/S" tires to Toyota Motor Corporation for use as factory standard tires on their new model "MIRAI" fuel cell electric vehicle (FCEV) for the North American market, which went on sale in this December.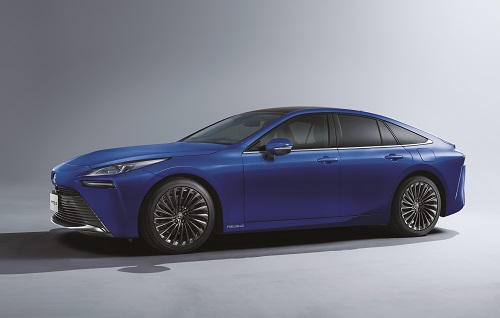 MIRAI

The new model MIRAI not only achieves improved fuel economy compared with previous FCEVs, but is also designed to provide a more refined, comfortable ride as well as a quieter drive.
The new model MIRAI will be outfitted with our high-performance DUNLOP SP SPORT MAXX A2 all-season tires. SP SPORT MAXX A2 all-season tires achieve superior fuel economy performance thanks to shallower tread grooves, which suppress heat generation so that this common form of waste energy can be put to use in driving the vehicle forward. In addition, these shallower grooves also make the tires lighter overall, which reduces rolling resistance to produce an even greater improvement in fuel economy. At the same time, we have also taken full advantage of our advanced compounding technology in pursuit of superior grip performance and wear resistance. With these innovative technologies, we are proud to contribute to improved overall fuel economy as well as enhanced stability and maneuverability performance for the new model MIRAI.The adoption of a larger tire size compared with previous models further adds to the new model MIRAI's already powerful image as a dynamic and speedy vehicle.



| | |
| --- | --- |
| | |
| Tire Groove Structure (Image) | |
| | ■Tire Size: 235/55R19 101V |