Sumitomo Rubber Establishes New Corporate Philosophy Structure: Our Philosophy
Sumitomo Rubber Industries, Ltd. is pleased to announce that we have recently overhauled our existing corporate philosophy to formulate a new corporate philosophy structure, which we call simply "Our Philosophy."

Still firmly grounded in the traditional "Sumitomo Business Philosophy" of the Sumitomo Group, our revamped corporate philosophy structure maintains the fundamental ideas of "fulfilling our responsibilities to society as a good corporate citizen," "pursuing greater happiness for all employees of our group" and "living up to the expectations of our customers."
At the same time, however, in order for our company to achieve further growth while adeptly responding to a business environment that is both increasingly uncertain and fraught with drastic changes, we felt that it was necessary for Sumitomo Rubber to redefine the purpose of our existence in a way that would set clear, unwavering guidelines for all of our employees and resonate with all of our stakeholders. Our Philosophy defines our Purpose as follows: "Through innovation we will create a future of joy and well-being for all." From there, we fleshed out the structure of our corporate philosophy system by defining a Story (i.e. our underlying beliefs), a Vision (i.e. what we aim to become) and the SRI WAY (i.e. the key Values that we hold dear).
In addition to this new corporate philosophy structure, we have also come up with a new corporate slogan that serves as a simple statement of the worldview behind Our Philosophy: "Rubber and Beyond, Driving Our Future." The phrase "Rubber and Beyond" has two meanings: it refers to both the "cutting-edge of rubber technology" and "expanding the possibilities of rubber to develop new technologies and provide new value." Meanwhile, the phrase "Driving Our Future" refers to bringing joy to the hearts of all who are touched by our products and services, driven by the boundless flexibility and endless possibilities of rubber materials.
We hope that Our Philosophy will serve as the basis for all of our decisions and as the impetus for all of our actions as we continue working to enhance not only our economic value, but also our value to society so that we may contribute to the development and ongoing prosperity of a more sustainable society.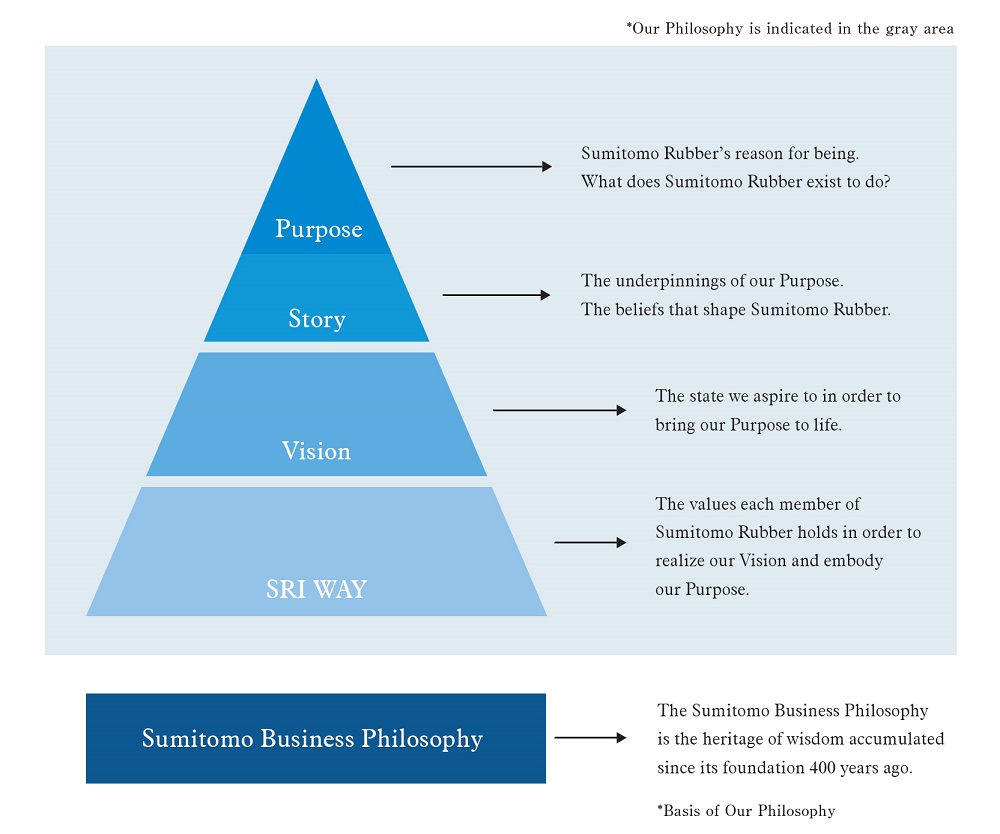 Our Philosophy Overview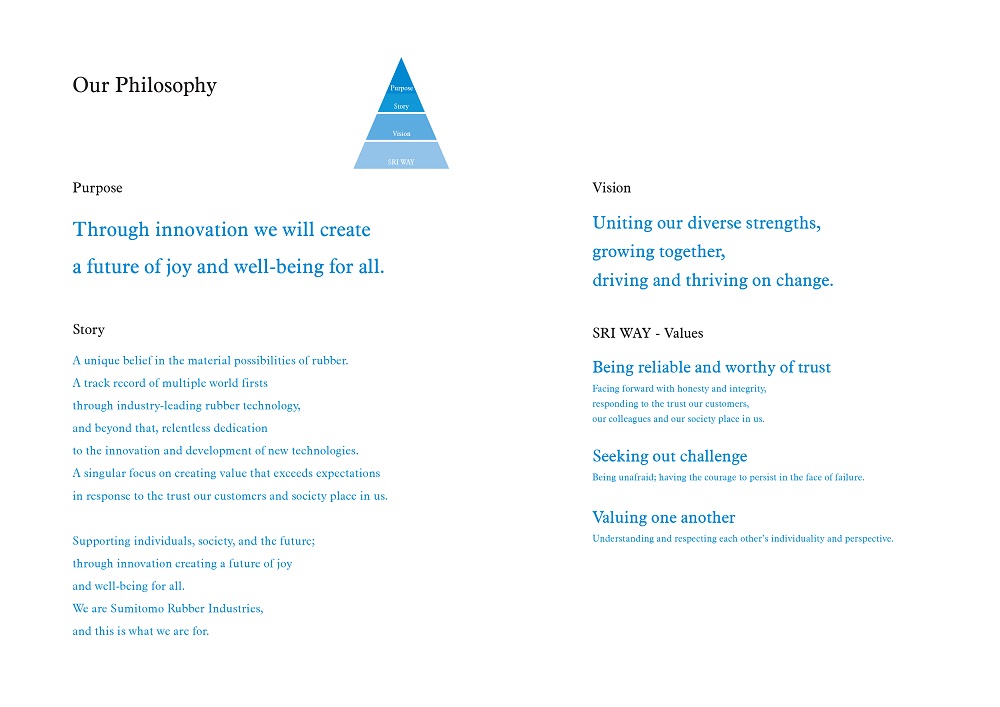 Our Philosophy Details

Corporate Slogan