Reducing Analysis Times for Rubber Materials Development by Over 99%~Thanks to the Cloud-Based Service Provided by Toyota Motor Corporation~
 Sumitomo Rubber Industries, Ltd. is pleased to announce that we have succeeded in reducing the amount of time required for the analysis of data obtained from cutting-edge research facilities (a key process in the development of new rubber materials) by over 99%. This breakthrough is all thanks to state-of-the-art data science that takes full advantage of the capabilities of "WAVEBASE," a new cloud-based materials analysis platform service under development (currently in the proof of concept stage with commercialization on the horizon) by Toyota Motor Corporation. In order to get the most out of WAVEBASE, we have shared all of our accumulated knowledge on rubber materials analysis with Toyota while working together to customize this platform for optimized analysis of rubber materials.
 Through our continued use of this service, we hope to set the stage for highly creative and productive research and development backed by the effective utilization of AI and Big Data so that we may develop higher performance tires for greater safety and peace of mind with the ultimate aim of contributing to the realization of a sustainable Mobility Society.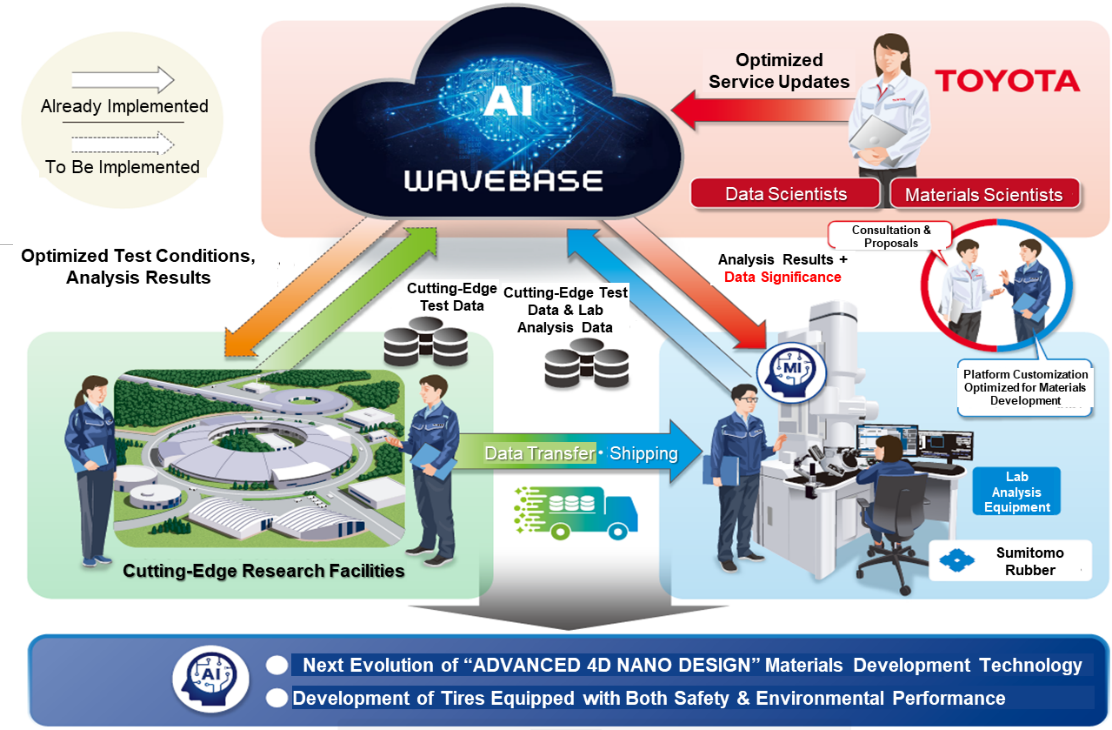 Sumitomo Rubber Industries has long utilized the renowned "SPring8※1" Synchrotron Radiation Facility, the "J-PARC※2" High-Intensity Proton Accelerator Facility, the latest supercomputers and various other cutting-edge and world-class research facilities for the development of advanced new materials. Thanks to recent advancements in measurement technology and increasingly sophisticated devices, it is now possible to obtain massive quantities of data in a very short amount of time, creating a growing need for faster and more thorough data analysis that does not overlook even the slightest changes occurring within materials, as any change can potentially provide invaluable data for new breakthroughs.
 Meanwhile, Toyota Motor Corporation has been looking to launch various new materials analysis services, putting to use the advanced data processing technology that they have spent years developing in order to facilitate the development of materials for their own vehicles.
 And so, in June 2020, our two companies initiated a joint proof of concept with the dual aims of further enhancing analysis capabilities through MI (Materials Informatics) and promoting the widespread application of DX (Digital Transformation) in research and development. As a result of this proof of concept, we have now succeeded in reducing the amount of time required for the analysis of data obtained from cutting-edge research facilities (a key process in the development of new rubber materials) by over 99%.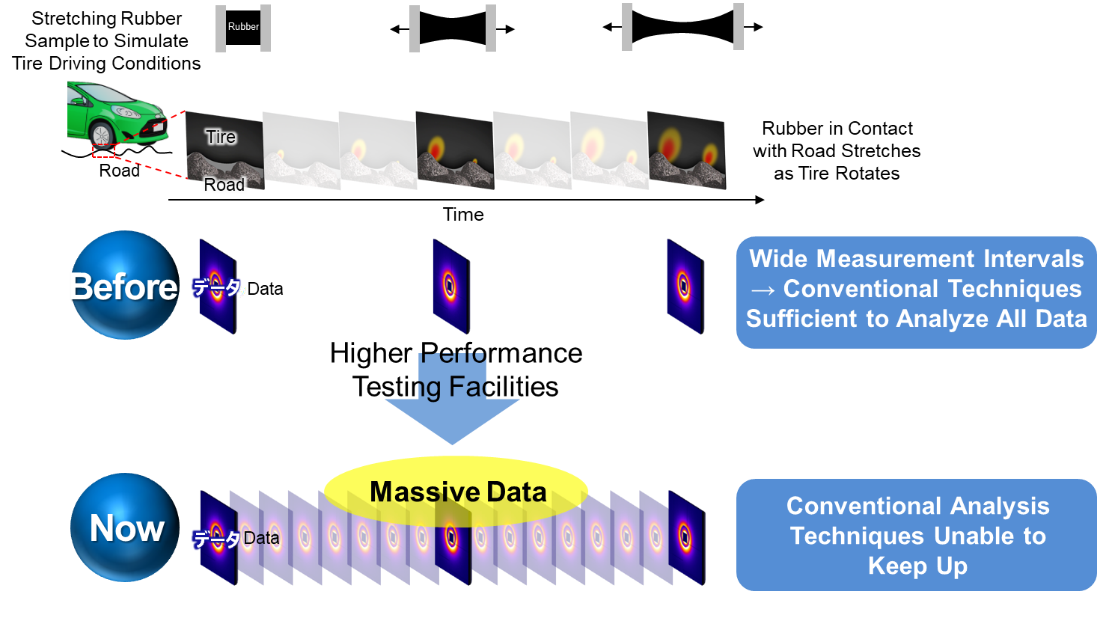 Issues Involved in Big Data Analysis
 Moving forward, Sumitomo Rubber Industries plans to utilize WAVEBASE not only for real-time on-site analysis at cutting-edge research facilities, but also to integrate data obtained from a wide range of laboratory analysis equipment for Big Data Analysis that will make research and development faster, more efficient and less energy intensive. At the same time, we hope to take advantage of new perspectives that were beyond our reach with conventional analysis techniques so that we can further evolve our proprietary "ADVANCED 4D NANO DESIGN※3" Materials Development Technology toward our ultimate aim of developing tires that are both safer and more environmentally friendly.
< Hiroyuki Kishimoto, General Manager of the Chemical Analysis Center at Sumitomo Rubber Industries>
| | |
| --- | --- |
| | At Sumitomo Rubber Industries, we have long been actively engaged in research and development that utilizes advanced particle beam facilities and supercomputers to develop new tire materials with the aim of developing more fuel-efficient tires for greater environmental friendliness. In order to achieve carbon neutrality and green innovation with an eye toward the future, it is now essential that we take full advantage of information science, bringing together the massive quantities of data that these cutting-edge research facilities produce and the latest market data in our quest for new knowledge. By 2019, we had already developed "Tyre Leap AI Analysis," a technology that can predict material properties and changes occurring during tire use. Having determined that partnering with Toyota and drawing on their extensive technology and experience would enable us to speed up our own materials development activities, we began utilizing WAVEBASE to accelerate our rubber materials research. Moving forward, we hope to expand our cooperation with Toyota as we work to contribute to the realization of a sustainable society in the form of Society 5.0. |
<Tetsuya Shoji, Project Head of WAVEBASE Project, Technical Project field ADPT at Toyota Motor Corporation>

| | |
| --- | --- |
| | The Advanced Material Engineering Division and Advanced Project Promotion Division at Toyota Motor Corporation have been working together to commercialize the MI materials data analysis technology that we have cultivated over the years with the aim of contributing to the advancement of Japanese industry as a whole. In light of their solid track record of development activities utilizing particle beams at cutting-edge research facilities, we were quite pleased to invite Sumitomo Rubber Industries to partner with us on this project. For this proof of concept, we returned to the most basic principles of measurement techniques and worked to decipher each and every piece of data in order to analyze materials that have complex hierarchical structures without excess or deficiency, backed by years of experience and knowhow in materials development. Through WAVEBASE, Toyota hopes to help our business partners to take full advantage of MI and DX in their research and development activities by bringing together the knowledge that they have cultivated in the course of developing new materials with the practical expertise that we have gained through applying informatics to materials development. Further, we hope that these material development efforts will ultimately contribute to solutions to social issues, and particularly when it comes to pressing environmental issues. |

※1. SPring-8 is the world's most powerful synchrotron radiation facility. (Location: Sayo, Hyogo, Japan)
※2. J-PARC is a proton accelerator and experimental facility that is used for cutting-edge research. (Location: Tokai, Ibaraki, Japan)
※3. Sumitomo Rubber & Tohoku University Succeed in Increasing Speed of X-Ray CT Imaging of Rubber Failure Phenomena by Approximately 1,000x~Introducing the Next Evolution of Proprietary ADVANCED 4D NANO DESIGN Sumitomo Rubber 's New Materials Development Technology~(News Release Issued March 8, 2021)
■WAVEBASE Profile
A cloud-based service currently under development (in the proof of concept stage) by Toyota Motor Corporation, WAVEBASE supports efforts to overcome various issues involved in materials research and development, specifically the "massive workloads involved in analysis" of data from testing and measurements, the "human factor in analysis techniques," the "scattered nature of data" and so forth. Through consultations on how data will be used, WAVEBASE can be customized to suit the needs of each user in terms of automatic preprocessing and feature extraction of test/measurement data and even data management infrastructure. Thus, WAVEBASE allows for stress-free data utilization that is already integrated into development processes, thereby enabling technicians to maximize their creativity while also supporting the full utilization of data in a way that transcends organizational boundaries. By supporting faster and more efficient development cycles for the materials that form the basis of each and every product on the market while supporting industrywide materials innovation, WAVEBASE will contribute to the realization of carbon neutrality and a sustainable society.