Introducing a Circular Economy Concept for the Tire Industry: TOWANOWA
Sumitomo Rubber Industries, Ltd. is pleased to announce that we have recently formulated our own unique Circular Economy Concept for the Tire Industry, which we call TOWANOWA. TOWA means "Everlasting" in Japanese, while WA means "Ring," and so TOWANOWA encapsulates our desire to contribute to the realization of a sustainable future with an everlasting "Value Ring" that provides value not only for Mobility Society but also for the earth's environment. With the launch of our TOWANOWA Concept, we are now committed to redoubling our efforts to growing our business while at the same time contributing to the development of sustainable societies throughout all of our business activities.

■Background Behind the Formulation of TOWANOWA

As efforts to achieve carbon neutrality continue to accelerate in response to the expanding impacts of climate change while population growth and economic development create growing demand for resources, there is now an increasingly urgent need for the realization of a Circular Economy on a global scale. At the same time, the rise of CASE and MaaS is spurring on the transformation of the automotive industry as a whole. In 2021, the Sumitomo Rubber Group unveiled our "Driving Our Future Challenge 2050*1" Long-Term Sustainability Policy, which sets forth many specific Challenge Target Themes to guide our efforts as we work toward solutions to various societal problems in terms of the Environment, Society and Governance by the year 2050. Our New Midterm Plan*2 also includes a commitment to efforts to "create joy and well-being for all" through the active practice of ESG Management. As part of our efforts for the Environment, we have now formulated our very own Circular Economy Business Model in the form of TOWANOWA.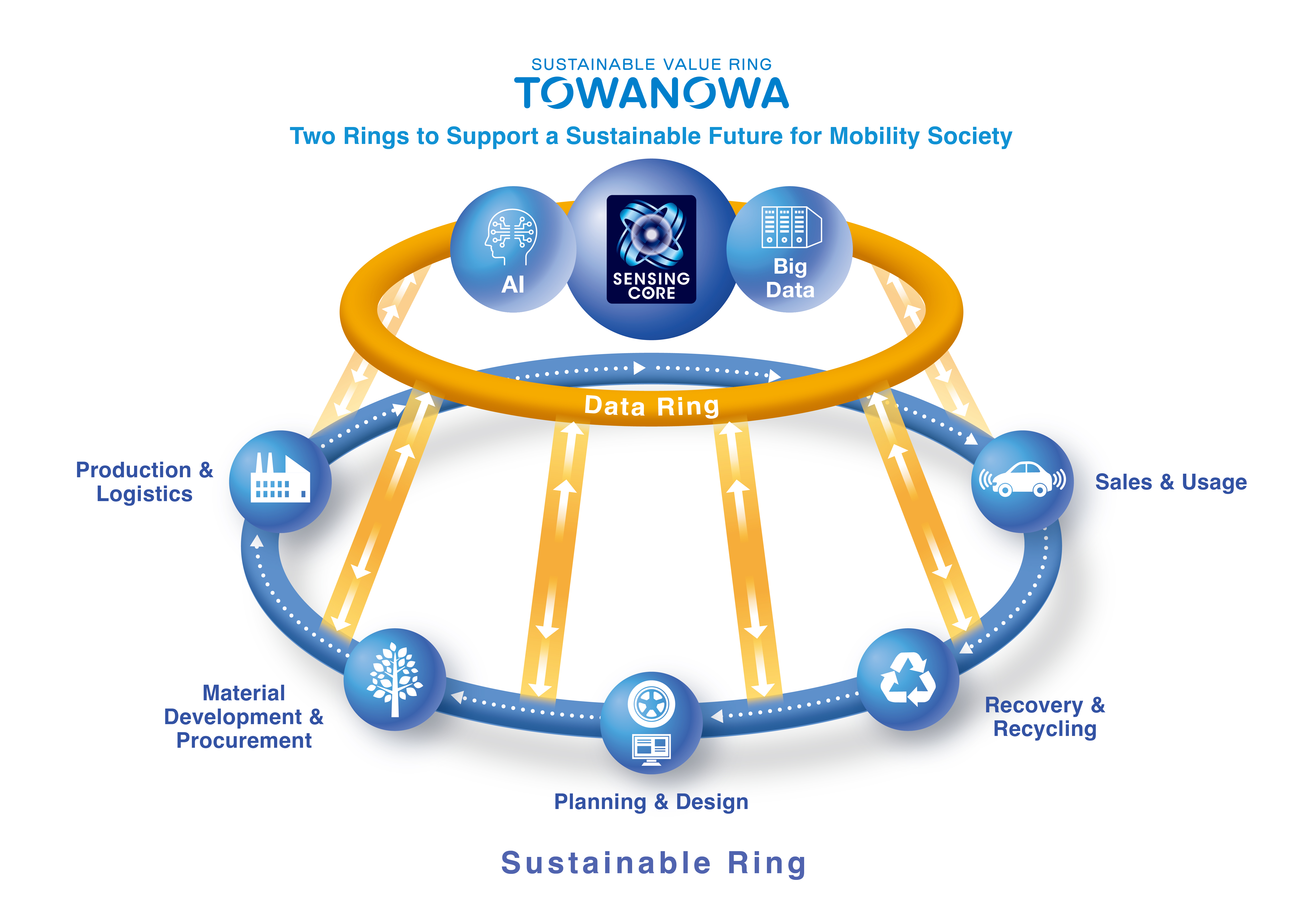 Key Visual of "TOWANOWA"
■2-Ring Structure of TOWANOWA
Given recent developments in society as well as the overall business environment, we came up with TOWANOWA as a means of further advancing our ongoing efforts to contribute to the realization of sustainable societies. Created with the aim of achieving the efficient movement and circulation of resources and goods throughout our Tire Business, TOWANOWA features a two-ring structure, with a "Sustainable Ring" and "Data Ring" linking five key processes: "Planning & Design," "Materials Development & Procurement," "Production & Logistics," "Sales & Usage" and "Recovery & Recycling." With our "Data Ring," we aim to bring together Big Data gathered from processes throughout our Value Chain (such as data on raw materials and data collected from tires during usage) so that we may put this data to use for the further advancement of AI and simulation technology. Our proprietary "SENSING CORE
*3
" Sensing Technology already takes advantage of this kind of Big Data.
■What Makes TOWANOWA Unique
These two rings are closely linked, with various data traveling back and forth between them constantly. As such, TOWANOWA not only supports our efforts to make effective use of materials and reduce CO
2
emissions but also enables us to provide new value for our customers in the form of safer and higher performance tires as well as more robust solutions and services. For example, as part of our "SMART TYRE CONCEPT," we will continue working to advance our proprietary "Performance Sustaining Technology" (which suppresses the decline in tire performance that normally occurs over time as a result of wear, etc.) and "ACTIVE TREAD Technology" (specialized compounds that change rubber performance on wet or icy roads for safer driving under any conditions) and more. At the same time, we will also be taking full advantage of the Big Data that we amass thanks to our proprietary "SENSING CORE Technology" as part of our all-around efforts to further the development of high-performance tires while enhancing the level of quality of the services that we provide.
Please view the following presentation materials for more information about our TOWANOWA Concept.
○ Presentation Materials:
A Circular Economy Concept for the Tire Industry
With our TOWANOWA Concept now in place, the Sumitomo Rubber Group will further accelerate our efforts to promote and practice ESG Management toward fulfilling "Our Purpose" as defined in "Our Philosophy."
*1:
Sumitomo Rubber Establishes Long-Term Sustainability Policy: "Driving Our Future Challenge 2050" (News Release Issued August 5, 2021)
*2:
New Midterm Plan Explanatory Materials
*3:
"SENSING CORE" Explanation (Within the "SMART TYRE CONCEPT" Page of Our Corporate Website)