Sumitomo Rubber and Viaduct, a US AI-powered connected vehicle analytics company, start a Joint Proof-of-Concept of SENSING CORE Technology
Sumitomo Rubber Industries, Ltd is pleased to announce that we have recently started a joint proof-of-concept with
a
US
-based
startup Viaduct Inc. ("Viaduct"), an AI-powered connected vehicle analytics company. With this proof-of-concept in place, we aim to contribute to the resolution of challenges faced by fleet operators.


In this joint proof-of-concept, we will combine Viaduct's AI-based vehicle health solution with our proprietary sensor-less sensing technology, "SENSING CORE," an advancement founded on our automotive wheel speed analysis technology. The goal is to enable a real-time assessment of the holistic vehicle condition, from tires to the engine and brakes. With the capability to monitor the holistic condition of vehicles, we aim to enhance on-the-road safety while increasing vehicle availability and reducing maintenance costs.
Within our solutions business, we have carried out proof-of-concept with taxi companies as well as car leasing and rental businesses for our air pressure and temperature management services, built on the onboard TPMS (Tire Pressure Monitoring System). In this endeavor, we will work with Viaduct to leverage their experience of delivering vehicle failure prediction solutions to over two million vehicles, and will take a step further to verify SENSING CORE's tire wear detection technology and Viaduct's Temporal Structural Inference (TSI) Engine . By combining the technological expertise and information from both companies, we aim to elevate our total vehicle failure prediction solution services to a higher level.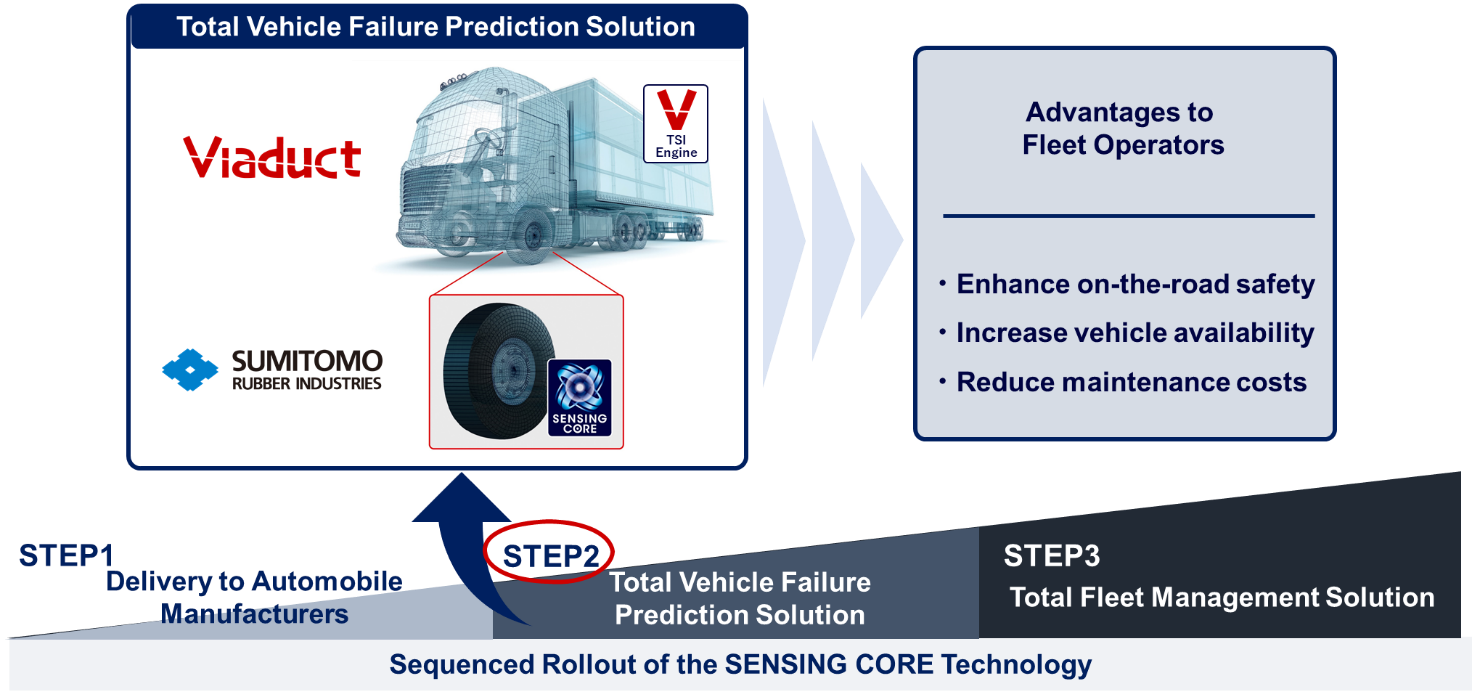 To manifest high levels of safety and environmental performance in response to the rise of CASE and MaaS, we aim to accelerate the progress of tire technology and its peripheral services, upholding the SMART TYRE CONCEPT. We have already reached out to about 40 automobile manufacturers to deliver our SENSING CORE technology, the centerpiece of our peripheral services. We are planning a progressive deployment of our services. In the late 2020s, we aim to roll out our total fleet management solutions that combine maintenance, insurance, and leasing.

■Company Overview
Sumitomo Rubber Industries, Ltd.
| | | |
| --- | --- | --- |
| Headquarters | : | 3-6-9 Wakinohama-cho, Chuo-ku, Kobe, Hyogo, Japan |
| Representative | : | Satoru Yamamoto, President and CEO, Representative Director |
| Founded | : | 1909 |
| Business Overview | : | Sumitomo Rubber manufactures and sells tires, sporting goods, and industrial products. The company operates a global tire business under the brands Dunlop and Falken. |
Viaduct Inc.
| | | |
| --- | --- | --- |
| Headquarters | : | 1010 Doyle Street, Suite 200, Menlo Park, CA, USA |
| Representative | : | David Hallac, CEO |
| Founded | : | 2018 |
| Business Overview | : | Viaduct Providing AI-powered vehicle health analytics. |