Sumitomo Rubber Starts a Proof-of-Concept of Autonomous Driving Buses that Use SENSING CORE with an Eye to Build a New Transportation System in Suzhou, China
Sumitomo Rubber Industries, Ltd. is pleased to announce that in June, we started a proof-of-concept of autonomous driving buses that use our proprietary sensor-less sensing technology "SENSING CORE" toward building a new transportation system in Suzhou, Jiangsu Province, China, a city which has been developed as a smart city. In this proof-of-concept, the information sent from running autonomous driving buses to the cloud is analyzed using SENSING CORE's function to detect road surface conditions, and the results of analysis are sent back to the driving control center, thereby supporting the safe and secure operation of autonomous driving buses. With an eye on the future social implementation of autonomous operation, we aim to introduce SENSING CORE as an industry-standard technology to secure the safe operation of autonomous driving vehicles.
This initiative will be introduced at the booth for Xiangcheng District, Suzhou in the 29th ITS World Congress※ to be held from October 16 to 20, 2023 at the Suzhou International Expo Center.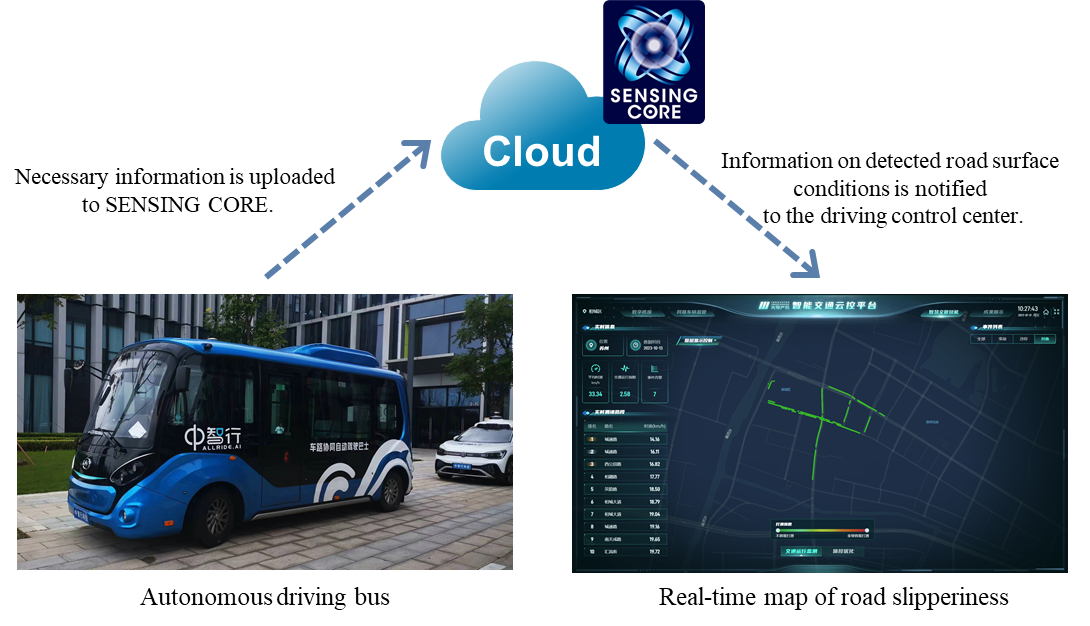 The Xiangcheng District of Suzhou has recently been achieving rapid economic development as a transportation hub in the Yangtze River Delta, and momentum for the creation of a smart city is gathering. In the district, more than 600 autonomous driving vehicles are in operation, including autonomous driving taxis and buses and uncrewed delivery cars and street sweepers. In this proof-of-concept, necessary information, such as wheel speed signals, is sent from autonomous driving buses running through the area to the cloud, where SENSING CORE analyzes the information and detects road surface conditions. Information on the detected road surface conditions is notified to the driving control center in the form of a real-time map of road slipperiness, etc. and used to ensure safe and secure driving control. We seek to create new values, including more efficient autonomous driving control and improved tire life cycle, by expanding the functions of SENSING CORE to include tire load detection and tire wear detection.
To manifest high levels of safety and environmental performance in response to the rise of CASE and MaaS, we push ahead with development of tires and peripheral services under our SMART TYRE CONCEPT. Our SENSING CORE technology, the centerpiece of our peripheral services, will make a significant contribution to the evolution and further development of mobility in the coming autonomous driving society. We will promote technology development to realize a future in which, in addition to using data on road surface conditions to control vehicles, such data is integrated into information on a town and society via the cloud and analyzed as big data.