Sumitomo Rubber Brazil Receives Commendation from the City of Fazenda Rio Grande
The Sumitomo Rubber Group is pleased to announce that Sumitomo Rubber do Brasil (SRB), our tire manufacturing and sales company in Brazil, has received a commendation from the City Council of Fazenda Rio Grande, which is home to the company's factory. SRB is the first corporation to receive this great honor from the city.

SRB was established in 2011, and its factory began producing tires in 2013. Since then, the company has always strived not only to provide high-quality tires for the people of Brazil, but also to contribute to the development of local communities in the region by creating jobs and stimulating various types of market demand. SRB is quite proud to receive this commendation in recognition of the positive impact that their various efforts to date have had on the people of Fazenda Rio Grande.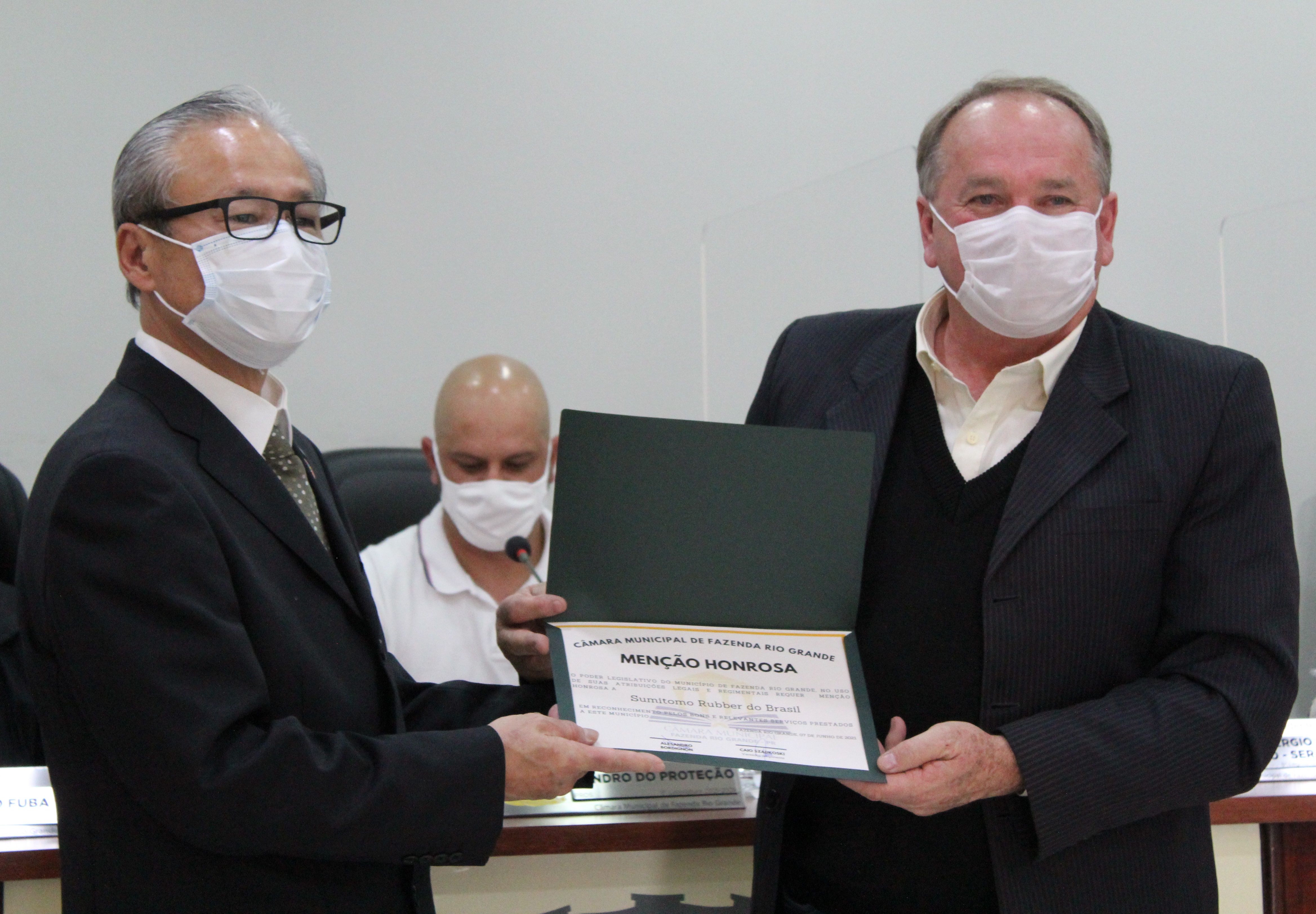 SRB President Wakitani (Left) Receiving the Commendation
■Comments on Receiving Commendation
(SRB President Yoshinori Wakitani)
The fact that our company has been able to remain in business for as long as we have is not owing solely to our own abilities, but is also thanks to all of the outstanding support and cooperation that we have received from a great many people over the years. It has now been ten years since we came to Fazenda Rio Grande. Our path to getting our business up and running here was by no means easy. However, looking back over these past ten years, I find myself filled with gratitude for all of the people who have stuck by us and supported us throughout these turbulent times. In the future, I look forward to continuing to work side by side with the local community as we continue to expand our business here in Brazil.
<SRB Profile>
| | |
| --- | --- |
| Company Name | : Sumitomo Rubber do Brasil Ltda |
| Location | : Fazenda Rio Grande, Paraná |
| Representative | : Yoshinori Wakitani (President) |
| Start of Operations | : October 2013 |
| Establishment | : July 2011 |
| Scope of Business | : Manufacture & Sale of Tires for Passenger Cars, Light Trucks, Trucks & Buses |
| Production Capacity | : Passenger Car & Light Truck Tires: 18,000/Day / Truck & Bus Tires: 1,000/Day |
| Employees | : 1,597 (As of December 31, 2020) |