Sumitomo Rubber Group Set to Increase Tire Production Capacity at Factory in Brazil
Sumitomo Rubber Industries, Ltd. is pleased to announce that we have decided to invest a total of 1.064 Billion Reals (approx. 23.5 Billion Yen*) to increase tire production capacity at our group's factory in Brazil. With this investment, our Brazil Factory will increase its production capacity for passenger car and light truck tires from the current 18,000 per day to 23,000 per day by April 2024. Likewise, the factory will also increase its production capacity for truck and bus tires from the current 1,000 per day to 2,200 per day by April 2025.
*1 Real = 22 Yen
Our Brazil Factory has manufactured tires for passenger cars and light trucks since October 2013 and tires for trucks and buses since March 2019. Although the Brazilian tire market contracted in 2020 due to the impact of the COVID-19 Pandemic, market growth is expected to exceed pre-pandemic levels in 2021, and the tire market is projected to continue growing at a rate of 2~3% per year thereafter as well. By augmenting production capacity at our factory in Brazil, the Sumitomo Rubber Group aims to further strengthen our tire sales business in the Brazilian market while simultaneously taking a major step forward in advancing the global expansion of our overall business.
■
July 2016 News Release
■
September 2018 News Release
■
April 2019 News Release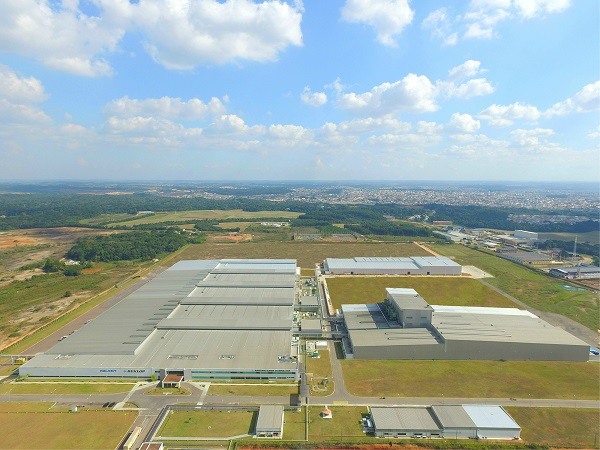 Brazil Factory
<Brazil Factory Profile (Current as of December 2020)>
| | |
| --- | --- |
| Company Name | : Sumitomo Rubber do Brasil Ltda. |
| Location | : Fazenda Rio Grande, Paraná |
| Representative | : Yoshinori Wakitani (President) |
| Start of Operations | : October 2013 |
| Establishment | : July 2011 |
| Scope of Business | : Manufacture & Sale of Tires for Passenger Cars, Light Trucks, Trucks & Buses |
| Production Capacity | : Passenger Car & Light Truck Tires: 18,000/Day / Truck & Bus Tires: 1,000/Day |
| No. of Employees | : 1,597 |