Sumitomo Rubber Group Updates "Sustainable Natural Rubber Policy"
Sumitomo Rubber Industries, Ltd. is pleased to announce that our group has recently updated our "Sustainable Natural Rubber Policy," thereby bringing our policy in line with the policy requirements for GPSNR
*1
member corporations as set forth at the Second GPSNR General Assembly, which was held in September 2020.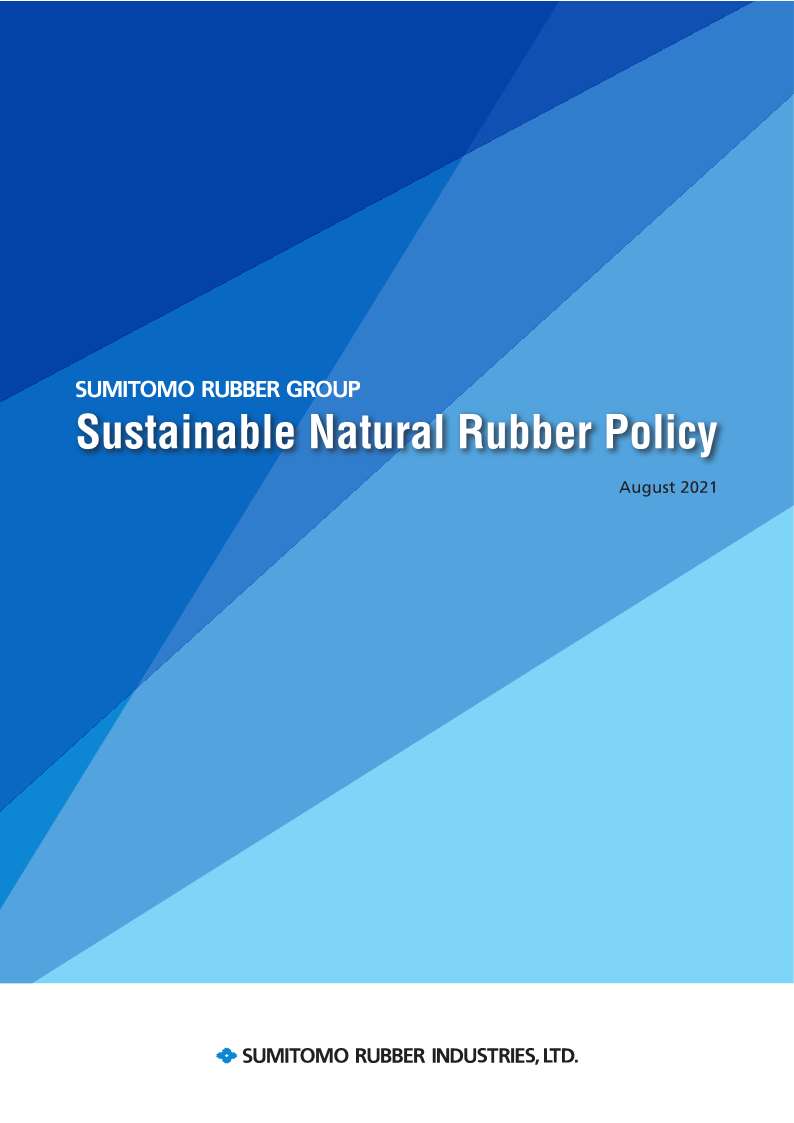 The "Sustainable Natural Rubber Policy" of the Sumitomo Rubber Group
As a corporate group that has long strived to contribute to the realization of a sustainable society, the Sumitomo Rubber Group was proud to join the IRSG
*2
SNR-i
*3
in October 2016, as well as the GPSNR in October 2018, and have since been actively engaged in a wide range of activities that aim to make natural rubber a more sustainable resource.
Now, in order to better promote efforts to tackle environmental issues such as deforestation in rubber-producing regions, human rights issues such as labor conditions for workers involved in natural rubber supply chains and various other pressing issues, the Sumitomo Rubber Group has updated our "Sustainable Natural Rubber Policy" to reflect the latest version of the GPSNR Policy Framework.
Mr. Stefano Savi, the Platform Director of the GPSNR, had many positive things to say about this recent policy update: "I am pleased that Sumitomo Rubber has formally codified their commitment to fair, equitable and sustainable natural rubber value chains. Currently, 50% of the world's natural rubber demand is represented at GPSNR, and the fact that Sumitomo Rubber and other member corporations are now aligning with the GPSNR Policy Framework represents a major step forward for the industry as a whole. I look forward to seeing more companies following this example in the near future."
In line with our updated "Sustainable Natural Rubber Policy," the Sumitomo Rubber Group will continue striving to create a more sustainable society by promoting proactive efforts in cooperation with stakeholders throughout natural rubber supply chains and beyond.
*1:Global Platform for Sustainable Natural Rubber
*2:International Rubber Study Group
*3:Sustainable Natural Rubber Initiative
(Reference)
(News Release Issued November 16, 2018): Sumitomo Rubber Establishes "Sustainable Natural Rubber Policy"
https://www.srigroup.co.jp/english/newsrelease/2018/sri/2018_090.html



Sustainable_Natural_Rubber_Policy(August_2021) (163

kbyte)