Announcing the Launch of FALKEN "AZENIS FK520L" & "AZENIS FK520" The Next Evolution of FALKEN's Flagship Tires – Rated No. 1*1 in Europe
Sumitomo Rubber Industries, Ltd. is pleased to announce the launch of the latest flagship tires for our FALKEN Brand, which has garnered widespread popularity in Europe and North America. Our latest "AZENIS FK520L" flagship tires for premium vehicles and "AZENIS FK520" EMT*2 tires combine outstanding cornering performance with high all-around performance on wet road surfaces. Available in 68 sizes (total) at launch and featuring open pricing, these new tires will first go on sale in Japan on March 1 before subsequently launching in Europe, North America and other regions.

| | |
| --- | --- |
| | New Pattern |
 
 Our latest "AZENIS FK520L" and "AZENIS FK520" represent the next evolution of our previous flagship tire: "AZENIS FK510," which received the No. 1 overall rating*1 as the result of tire general performance testing conducted in 2021 by Europe's largest automobile federation, ADAC (Allgemeiner Deutscher Automobil-Club / General German Automobile Club). In 2022, "AZENIS FK510" also received the No. 1 rating*3 as the result of tire wear performance testing conducted by ADAC.
 For our latest flagship tires, we have developed a proprietary left-right asymmetrical tread pattern in order to provide the cornering performance that premium vehicles demand. Featuring higher rigidity on the outside blocks, this new pattern provides solid grip when cornering to allow for agile handling at the driver's will. In addition, the tread pattern also features wider grooves for greater water drainage performance in order to maintain a high level of all-around performance when driving on wet road surfaces, even at high speeds.
 "AZENIS FK520L" and "AZENIS FK520" both adopt a rubber compound that incorporates "Sustainable Silica Dispersion Agent," an advanced all-natural biomaterial that readily forms bonds with both rubber (which is hydrophobic) and silica (which is hydrophilic), thus allowing for stronger bonding between rubber and silica. As a result, Sustainable Silica Dispersion Agent extends tire life without sacrificing performance on either wet or dry roads.
 On the design side, these tires exude luxury while making a powerful impact thanks to our popular "Nano Black*4," a proprietary design technique that adds extremely fine ridges to the FALKEN Logo on the tire sidewall to suppress the reflection of light for a deeper shade of black that is sure to catch the eye.


※1 FALKEN Tires Receive Top Marks in ADAC Tire Testing(News Release Issued March 12, 2021)
※2 EMT tires are able to continue driving for a certain specified distance even when internal tire pressure is zero.
※3 FALKEN Tires Receive High Marks in Wear Testing Performed by ADAC(News Release Issued January 28, 2022)
※4 Announcing "Nano Black," a New Design Technique for Deeper Black Sidewall Coloring to Improve the Visibility & Appearance of Tire Logos, etc. (News Release Issued August 31, 2021)


■Sizes Available at Launch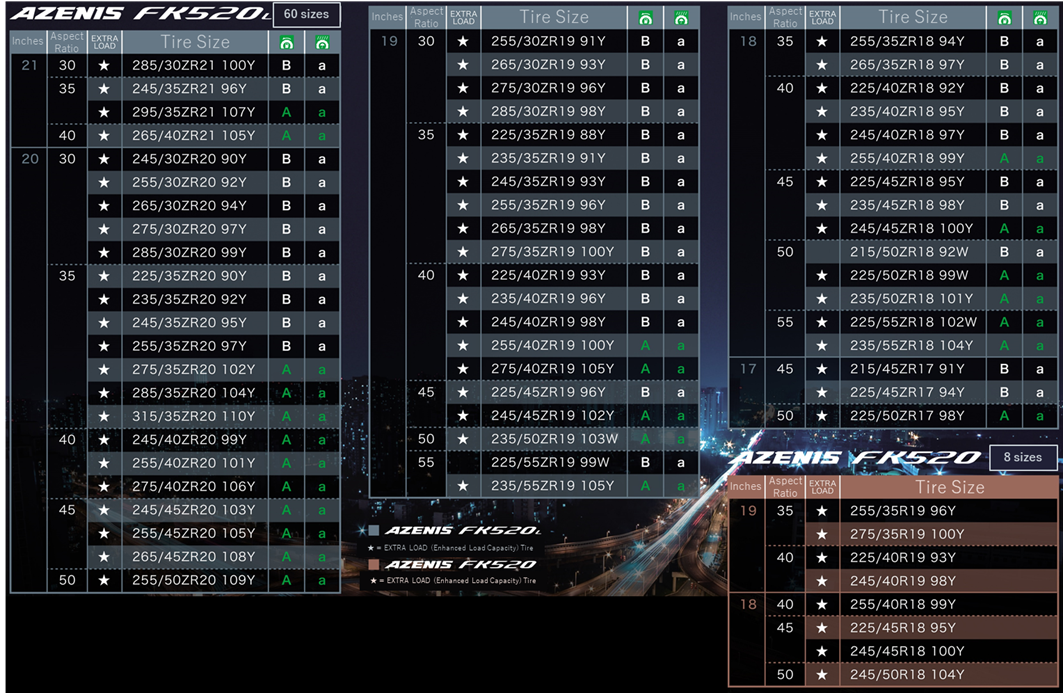 About the EXTRA LOAD Standard: This standard designates tires that have been designed for higher pressure and load capacity compared with tires of the same size designed to other standards (JATMA, ETRTO, etc.). As such, EXTRA LOAD tires have a higher load index than other tires of the same size. In addition, in order to maintain this enhanced load capacity, EXTRA LOAD tires may also require higher internal pressure than other tires of the same size. Sumitomo Rubber Industries, Ltd. offers an extensive lineup of EXTRA LOAD tires in order to meet the needs of larger vehicles produced by international automobile manufacturers.