Creating a Remote Tire Pressure Monitoring System for Level 4 Autonomous Driving - Proof-of-Concept Test Conducted on Public Roads in City of Gifu -
Sumitomo Rubber Industries, Ltd. is pleased to announce that, having created a system designed to support Level 4 Autonomous Vehicles by monitoring tire pressure data and responding to signs of tire trouble requiring maintenance, we conducted a successful proof-of-concept test of this new system on a public road in the City of Gifu (Gifu Prefecture) on November 12th. This test represents a major step in our ongoing joint research with the Center for Research on Adoption of NextGen Transportation Systems (CRANTS) at Gunma University, with whom we have been working since last year to develop a system that would allow for remote monitoring of tire pressure in driverless vehicles. It is our hope that this new system will contribute to greater safety for autonomous vehicles by facilitating preventive maintenance to preempt potential tire trouble while also ensuring a more rapid response to punctures and other types of tire trouble when it occurs.
Scenes from Proof-of-Concept Trial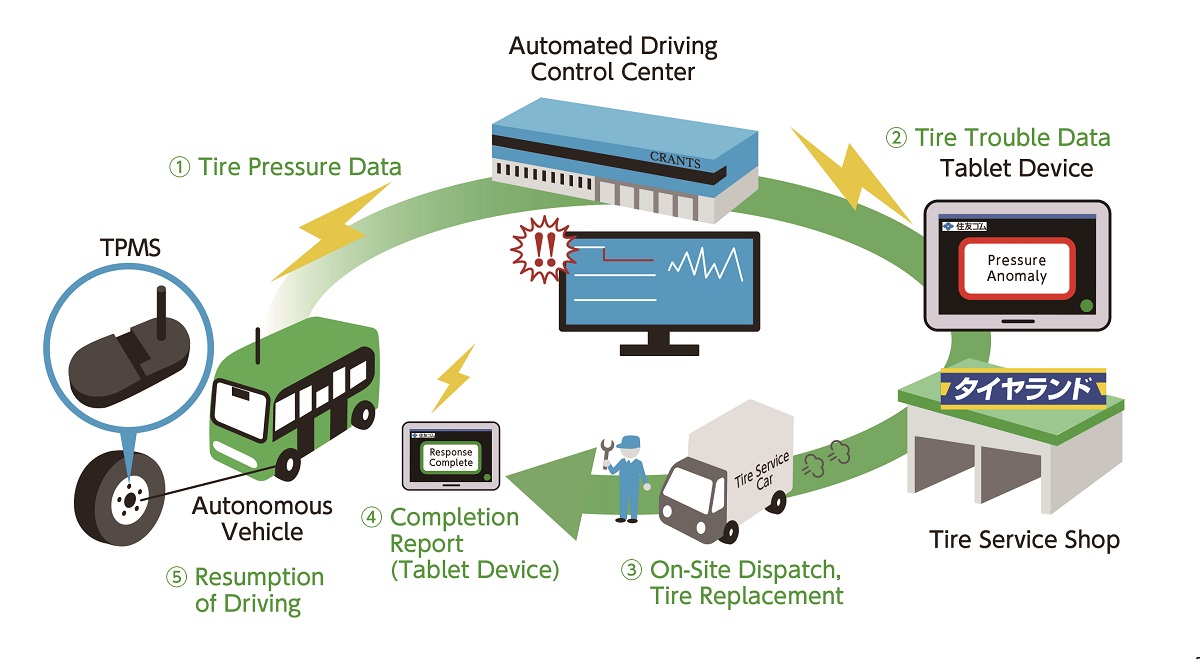 Overview of Proof-of-Concept Test
We timed our proof-of-concept test to coincide with the "Transit Mall 2020 Public Transportation Festival,"
*1
which is taking place along Kinkabashi Street in central Gifu from November 11th through the 15th. The proof-of-concept test played out as follows. First, an autonomous vehicle driving through a downtown area was given a simulated flat tire, which was picked up by the Tire Pressure Monitoring System (TPMS) installed inside the tire. The TPMS then transmitted the tire pressure data to a remote control center, which automatically detected the tire trouble and alerted a nearby tire service shop (Tire Land Gifu
*2
). Upon receiving this alert, the service shop dispatched maintenance personnel to replace the flat tire. The proof-of-concept test then concluded with the resumption of autonomous driving once the tire was replaced.
*1: Taking place in downtown Gifu, Transit Mall 2020 Public Transportation Festival is an event organized by the City of Gifu with the aims of improving the functionality and convenience of public transportation, taking advantage of new road space and promoting greater success and prosperity in the city center.
*2: For this proof-of-concept test, Tire Land Gifu set up a temporary service station on-site.

In order to respond to the rise of CASE (Connected/Autonomous/Shared/Electric), MaaS (Mobility as a Service) and other major innovations that are already transforming the automotive industry, the Sumitomo Rubber Group is actively engaged in the development of tire pressure management solutions services and other innovations as part of our "SMART TYRE CONCEPT," a forward-thinking concept for the development of tires and peripheral services to better serve the needs of the Mobility Society of the Future.
Insufficient tire pressure is not only a common cause of punctures and flat tires, but also leads to a decline in fuel efficiency and driving performance. As such, regular tire pressure maintenance is extremely important. However, as autonomous vehicles become more common and mobility society becomes increasingly driverless, there will almost certainly be a greater need for services that remotely monitor tire status toward ultimately making vehicles maintenance-free as well. By allowing for remote monitoring of tire pressure, we believe that our new system will provide just such a solutions service for greater safety and peace of mind for the upcoming era of autonomous driving—and this recent proof-of-concept test was a major step toward making this a reality.
[Profiles of Cooperating Organizations]
Gunma University Center for Research on Adoption of NextGen Transportation Systems (CRANTS)
Established in 2016 as a base for innovation that would bring together industry, academia, government and finance to contribute to the development of the next generation of the automotive industry, CRANTS aims to cultivate talent in the field while promoting research and development on next-generation mobility systems and their social implementation. Since its founding, CRANTS has been actively engaged in proof-of-concept testing of autonomous vehicles on public roads in the City of Kiryu (Gunma Prefecture).
Website:
http://crants.opric.gunma-u.ac.jp/en/
[Reference]
News Release Issued November 28, 2019
"Realizing Tire Pressure Monitoring to Support Level 4 Automated Driving—Preempting Tire Trouble Caused by Drops in Tire Pressure"
https://www.srigroup.co.jp/english/newsrelease/2019/sri/2019_096.html
News Release Issued May 8, 2019
"Level 4 Automated Driving Joint Research with Gunma University"
https://www.srigroup.co.jp/english/newsrelease/2019/sri/2019_035.html